Post by Hishiro on Apr 12, 2012 14:00:10 GMT -8
Name: Hishiro Burokku
Age: 16
Country/Village: Fire and Leaf
Rank & Profession: Gennin
Difficulty Setting: Normal
Releases/Senses: None
Types
Primary: Taijutsu
Secondary: Ninjutsu
Tertiary: Genjutsu
PHYSICALITY
Height: 5'10"
Weight: 135 lbs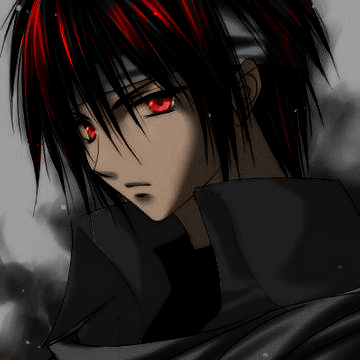 Hishiro's build is muscular and lean due to the fact that he trains in Taijutsu exclusively. He has a deep red eyes, red-tinged black spiky hair, and light white skin. He wears a black full-body skin-tight jumpsuit, with a high collar that reaches his nose. He has wrappings on his legs that start at the toes and go up to his knee, as well as wrappings on his arms that start at his fingers and go up to his elbow. Under his hair on his forehead he has wrappings that go all the way around as well. His headband is part of his jumpsuit, with it being on his left mid-back under his ribs. He has no visible scars yet.
COGNITION
His personality is quiet, serious and silent. He doesn't react to the annoyances of people, but if he sees injustice , he will intervene with as little delay as possible. This silent nature has led him to have no friends yet.
Alignment: True Neutral
Allegiance: Hishiro's allegiances are to his village and himself. ( May change later with addition of friends.)
Likes:
Quiet
Taijutsu
Hot springs
Dislikes:
Crowds
Most people
Lies
Hishiro tends to always be in a hurry when he goes somewhere, and will whenever possible avoid conversations.
ARMAMENTS
Primary:
Ninjato
Rank: C
Type: Primary / Melee 
Description: Short and straight, this blade takes a similar form of a katana, but without the curvature in the blade. With the blade measuring no more than three feet, and a square guard on top, this weapon has been popularized by many ninja, hence the name.
Cost: 5,000 ryo
Secondary:
Shuriken (Ninja Star)X5
Rank: D
Type: Secondary / Ranged
Special: 5 per Pack.
Description: A shuriken, like kunai, is one of the more basic weapons employed by ninja of all classes. They are sharpened, four-pronged metal stars, no more than a few inches long, and are extremely useful for throwing. Although small, they can be used to distract, or, if accurate enough, to kill. They have an open circle in the center, used for grabbing with a finger, to avoid cutting oneself, or to put thread through. The circle is also a benefit in aerodynamics, as it ensures more accurate trajectories.
Cost: 100 Ryo per Pack
Accessories: 
High-Frequency Ear Plugs
Rank: C
Type: Accessory / Self
Special: When worn, the plugs negate Ototon (Sound) based chakra one rank lower than the rank of the plugs. However, in order to receive full protection, one must accept the fact they will be fully deaf while wearing them. Finally, athough it takes a simple action to take them on or off, it takes a second delay before the chakra can seal the plugs across the ear in order to block out sound.
Description: Though appearing insignificant at first, these specially modified ear plugs allow the user to block out more than just regular sound. Though it cannot fully stop chakra induced sounds, it does an excellent job of keeping most of them from inflicting damage.
Cost: 5,000 ryo
JUTSU 
[1] Kaimon (Gate of Opening)
Rank: C
Type: Supplementary / Nintaijutsu / Kinjutsu
Range: Self
Chakra/Stamina: Very Low
Handseals: No
Special: See subjutsu. Lasts for one turn, plus one more each time retrained. Intense flow of chakra is able to disrupt regular Genjutsu 'C' ranked and lower. Once activated, the user moves at twice their normal speed, to the point a normal eye has trouble seeing the user (+200%), seeing the figure in blurs and not as a whole. Upon deactivation, fatigue settles and lasts as long as Gate was active, yields strain, and restricts user to Taijutsu 'A' ranked and under for the remainder of the fatigue.
Description: The first stage of the Eight Gates, the Gate of Opening (開門, Kaimon) is located in the brain, and upon activation, releases the brain's restraints, allowing full power usage of the body's muscles. Unlocking this gate allows the user to use extremely strong techniques, such as the Iron Fist's Frontal Lotus.
Domain: Hachimon.
Dynamic • Entry (Dainamikku • Entorii)
Rank: D
Type: Offensive / Taijutsu
Range: 0 - 5 meters
Stamina: Low
Special: Entry extends up to 5 meter, and during rush, user's speed temporarily increases; each time retrained, the distance at which they begin their rush increases by 1 meter.
Description: After encountering a distracted opponent, the user leaps towards an opponent from their blind-spot, delivering a quick, deliberate kick to the face that is meant to catch them off guard and knock them out.
Domain: Goken.
Sorry for any possible accidental mistakes, as I am doing this application on the IPad. Related to that, I was going to put a picture for appearance but iOS cannot get the HTTP that way. Sorry, but I hope it'll do.