Post by Akiyuki on Apr 27, 2011 1:33:25 GMT -8
[atrb=background,http://i.imgur.com/qvttS.png][atrb=width,400,true][atrb=border,0,true][atrb=style,padding: 20px; border-radius: 25px; border: 1px dotted #bcbcbc;]

Akegarasu Akiyuki

One Yet Earned.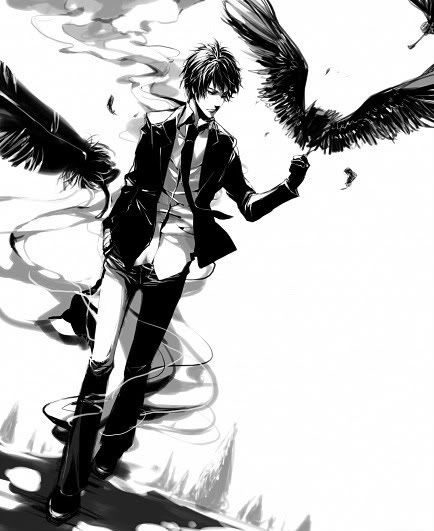 PERSONOLOGY.....
oi50.tinypic.com/33y1j4p.jpg
[/img][/right][/i]
---
[-]
Gender
:Male
---
[-]
Age
: 14
---
[-]
Birth Country
: Kaminari no Kuni
---
[-]
Hidden Village
: Kumogakure no Sato
---
[-]
Ninja Rank
: Genin
---
[-]
Occupation
: Sensor
---
[-]
Difficulty
: Normal/Inter
---
[-]
Clan
: Akegarasu
---
[-]
Ninja Skills (Type)
:
---
[-]Primary:Ninjutsu
[-]Secondary: Taijutsu
[-]Tertiary :Genjutsu


[/blockquote]




PHYSICALITY…..
[/u]
Five-feet Nine-inches & One Hundred-Sixty[/i][/right][/blockquote]
B
ody
A
ppearance
(Will always be RP'd):
---
Akiyuki's body bears no scars even the greatest pieces of have its flaws, the males body was what could be called petite from a distance, but up close the detail of years of training reflected masterfully showing most in his lower body strength, but that didn't mean his upper body wasn't as powerful instead he loved his hands dearly for they're ability to cast ninjutsu at such speeds while being in constant movement. The gloomy looks come from the long raven spike style that goes to his shoulders and dulled blue eyes though with a certain condition upon excitement or other emotions Yuki's iris begins to reflect red changing the color to a blood red. A tattoo in Kanji between his shoulders reads 'Tengu-Karasu'
T
he
C
lothes
:
T
he
C
row
G
od
H
im
S
elf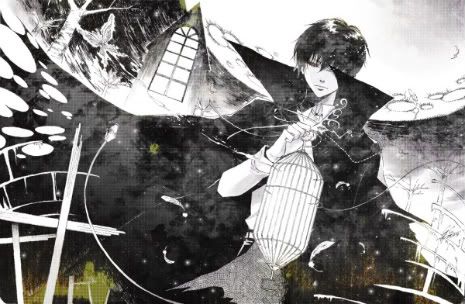 ---

[-]Doning a sapphire haori, worn over the shoulders with the sleeves loose.


---

[-] Black cloak/trench worn loosely


---

[-]Series of black belts


---

[-]Black loose no sleeve shirt & pants combination.


---

[-] Loose fitting black pants


---

[-] Sandals are worn flat with closed toes(black)


---

[-] Aodd arrangement for the pouches which tucks perfectly along the second sash.

use.
COGNITION.....
[/u][/b]
"Y
ou
S
tormed
O
ff
T
o
S
car
T
he
A
rmada
"
---
Akiyuki is usually labeled as quiet and calm. The perfect type to undergo bullying and not speak a word of it, in truth he was this type of person for years the boy took the punishment of other children who found him to be 'gloomy' and 'creepy' cause of his dark appearance he was automatically un-accepted by the other children and for it years of stress built up, he became very sharp tongued and negative minded, and even cut the small bonds he had Akiyuki became capable of completely being able to trade off a friend for his own without any emotional attachment hurting him.
L
ike
J
esus
P
layed
M
artyr
:
---
Unfortunately cutting ties did nothing, but bring more pain and no allies when times were rough or those that were once allies became enemies…In this situation what else would happen besides the calm dying and storm that built up for so long erupted in the form of 10 horrible crows, that pleasure of battle brought red to not only is passive blue eyes, but his soul was tainted and the calm boy became a rather interesting child shy in nature, but a sadist underneath the carpet wishing nothing more than to see the face of troubled souls not taking part in as a bully, merely a observer… Just the chance.
"
I
'll
D
rill
T
hrough
Y
our
H
ands
-
0
-
N
ow
D
ie
A
s
Y
ou
S
leep
"
---
A ninja by name a member of the Akegarasu fitting the image completely inside and out a loner who prefers to merely be a supporting actor instead of taking the lead from those who have managed to gain some trust of this shy kid. Shy only by nature, but a bird of prey deep at heart, one who only voices his opinion when its needed or retaliates with sharp sarcasm when not presented with respectful persons. One who prefers the company of birds than humans finding they're sense of travel to be what he truly amazing wanting only to spread his wings and stay loyal to those who have earned it that is Akegarasu Akiyuki.
[/blockquote]
Allegiance:


---

[-] Comrades


---

[-]Clansmen


---

[-]Kumo



---




---

Alignment: Chaotic Neutral


---

Quirks:Carrying around a crow.
Tendencies:Training, Sleeping in high places.
ARMAMENTS…..
[/u]
oi46.tinypic.com/20rry9g.jpg
[/img][img src="[/img]
oi46.tinypic.com/20rry9g.jpg
"]
[/right][/blockquote]
---
Primary Weapon:
Chain Whip
Bird of prey
Rank: C
Type: Primary / Melee
Description: A durable black metal chain that dons a metal dart at the edge that sports a black metal spear dart at the top, the bottom sports a 3k black metal ball while both sides are with a black fur to hide the chains location, this whips handle and metal links have been moved to improve mobility and power giving the user of this chain whip a well rounded attack and defense with a full reach of 3.6 meters
Cost: 1,000 Ryo

Katana
Rank: C
Type: Primary / Melee
Description: Commonly refereed to as a 'Samurai sword', the katana is characterized by its distinctive appearance: a curved, slender, single edged blade up to three feet in length, circular or squared guard, and long grip to accommodate two hands. As such, it has become renowned for its sharpness and cutting ability.
Cost: 1,000 Ryo


Kodachi
Rank: C
Type: Primary / Melee
Description: If a Nodachi is an oversized version of the Katana, the the Kodachi is the opposite. Just a bit larger than a Wakizachi, the sixty inch blade nonetheless retains its brethren's cutting ability, and with its compact size, makes it ideal for travel and rough terrain.
Cost: 1,000 Ryo

---
Secondary Weapons:

[-] Senbon
Rank: D
Type: Secondary / Ranged
Special: 10 per Pack.
Description: Senbon were first used by doctors in acupuncture, but due to its reported widespread effectiveness, it was quickly adopted by ninja in order to hit points on the body that can induce paralysis, loss of consciousness, or even death.
Cost:

[-] Senbon Launcher
Rank: C
Type: Modification
Special: Launcher holds up to 5 Senbon.
Description: Usually hidden on either of the user's forearm, this launcher can be used to send needles at their opponents at higher speeds with better accuracy. Up to five needles can be launched at once, resulting in deadly surprise.
Cost:


Exploding Note [x2]
Rank: D
Type: Tool / Area of Effect
Range: 0 - 5 meters
Special: 10 per pack
Description: The exploding note is a piece of parchment paper infused with special chakra, layered over with a special script on it that serves to enable and facilitate its explosive properties. Its execution is simple - the ninja can attach the note to another object such as a kunai or log, and upon activation, the note is set and begins either a slow countdown burn, which eventually results in a large explosion, or the explosion in itself upon command.
Cost: 500 per Pack

Ninja Wire Strings
Rank: D,D
Type: Secondary / Ranged
Special: 20 ft. of wire per pack.
Description: Wire Strings can be used for rappelling, manipulating weapons, or to tie down and restrict the movement of an opponent, sometimes even being able to slice through items when generating enough force to do so. They are a useful tool for a shinobi.
Cost: 400 Ryo



Kunai (Throwing Knife)
Rank: D,D,D,D,D
Type: Secondary / Melee + Ranged
Special: 2 per Pack.
Description: This throwing knife is one of the common weapons of a ninja. It is often kept in a holster on the leg in a pouch attached to the belt. What makes it so versatile and universal is the fact the Kunai can be used in conjunction with explosive tags and other weapons to form deadly combos out of simple, easily accessible items.
Cost:500 Ryo


Kunai Grenade
Rank: B,B
Type: Secondary / Area of Effect
Range: 0 - 10 meters
Special: 1 per pack
Description: A ninja tool mostly used for widespread damage to a group of enemies. It's a metal sphere with kunai welded into it, which also has a plethora of hidden exploding tags that causes it to explode upon contact, sending out flying kunai and shrapnel.
Cost: 2,000


Hikari (Light Bomb)
Rank: C, C, C
Type: Tool / Area of Effect
Range: 0 - 10 meters
Special: 1 per pack
Description: Flash Bombs are supplementary explodables used mainly for diversions, creating a blinding light when they detonate that spreads quickly across a small area. Flash Bombs come in many shapes and sizes depending by region; some may look like small spheres wrapped in paper or, more conventionally, as cylindrical canisters.
Cost: 1,500



Karaku (Chaff Grenade)
Rank: B
Type: Tool / Area of Effect
Range: 0 - 30 meters
Special: 1 per pack
Description: This specialized grenade is not intended to incur physical harm, but instead aims to disrupt enemy communication across radio waves in a small area. Packed with special metallic components laced in unique chakra, this canister upon impact releases the shards everywhere, resulting in a shower of disruptive frequencies that lasts up to 3 posts.
Cost: 500



Exploding Pouch
Rank: C
Type: Tool / Area of Effect
Range: 0 - 5 meters
Special: 5 per pack
Description: A variation on the exploding note, these pouches contain a myriad of ball bearings and other metallic projectiles that, when detonated, spread forth even more
Cost: 5000 per Pack

---
Items:

[-]Radio
Rank: C
Type: Accessory / Self
Special: Has a range up to 10 miles.
Description: The short range radio is capable of keeping ninja in contact across several miles. The radio can accept multiple frequencies and is activated to talk by pushing a button on the neck attachment, making it simple to use even in the most dire of situations. With a durable carapace, it is designed to withstand water damage and even the pressure of extreme altitudes.
Cost: 3,000 Ryo per Radio
---
R
eleases
:
R
aiton
L
ikes
: [-]
T
raveling
[-]
M
usic
[-]
T
raining
[-]
F
amily
---
Dislikes
:
[-]
L
oud people
[-]
D
isrespectful
people
[/color]
[/ul] [/font]
[/div]
CREDITS
• made by lovesolfege from
OTE
[/center][/td][/tr][/table]
Original Character