Post by Kinz on Aug 26, 2012 12:13:37 GMT -8
Asashio Uchiha
[/i][/font][/size]
ORIGINAL BIO!
[/right]
[/li][li]Gender – Male
[/li][li]Birth Country – Rain
[/li][li]Hidden Village – Cloud
[/li][li]Difficulty –
Hard/Advanced
[/li][li] Alignment – Chaotic Neitral
[/li][li]Kekkei Genkai!
[/li][li]Rank!-
[/i]
[/li][/ul][/li][/ul]
[/ul]
[/font][/color]
[li]
Psychical Talents:
[/li][li]
Chakra
1x massive, 2x high
[/li][/ul]
[/font]
Height: 6'3

Weight: 213 lbs.

Hair: Brown with Black streaks

Eye Color: black (when not in sharingan mode)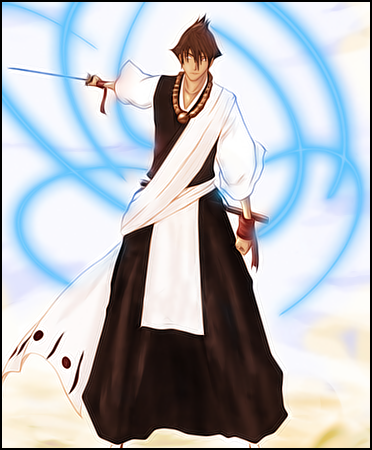 Asashio is an average looking fellow. He has dark brownish black colored hair that is usually Cut short, and styled with a bit of a spike to it. He has an odd shape to his nose, almost to thin and flat. It makes him look somewhat like an owl, and gives him an almost knowing look to him. This in no way makes him less attractive in any way. Truth be told he is merely average as far as many of the Cloud villages ladies will comment. Not on the ugly side not on the pretty either. His eyes are normally black as with most Uchiha, but once his sharingan activates they turn the crimson color.

He's about 6'3 feet tall, and looks thin when his robes aren't obstructing specifics about his build. Around his neck there sits a large necklace. It is made of orbs, that in the back are small, but become progressively bigger until they culminate in a large orb in the front. This is a very precious item to Asashio. It belonged to his father, an anniversary gift from his mother. He has never spoken much more about it then that, so the mystery is lost to most people. It is a bronze color, and seems fairly valuable.

Other then that, Asashio has many outfits he will wear depending on the conditions, but he generally wears a sequence of robes for the comfort they provide. The upper shirt area is usually black, and he wears a sash of white that wraps around him, and down around his waist as a belt. The end usually hangs down in front of him. His pants are again black, the same as the shirt part of the robes, and are very baggy looking. This allows for easy and range of movement, as well as makes it difficult for untrained eyes to follow his leg movements. Because of the elastic band he wears near his ankles, the bagginess of the pants doesn't usually get in his way when moving. He wears black ninja shoes that go up to his shin. On each wrist he has tied bits of fabric that are meant to absorb sweat to prevent his hands from becoming slippery. He will wear the standard anbu uniform, but only when needed.

[/ul]
[/font]




philosophy




Born in rain and raised in cloud, he owes his comfortable life style to the leaders of the cloud village. Fighting for them seemed like an interesting choice. Eventually, after the world was cast into termoil, he made his way back towards the cloud village licking his wounds. Due to a need to bolster the ranks, they offered him his chunnin status and his position within ANBU. Now he works to earn those gifts.




morality



Asashio is an odd sort. He's a fiercely loyal person, willing to sacrifice much for his compatriots, but he has an odd way of showing it. Its supposedly due to his old masters habits. It takes a lot for him to consider someone a friend. An ally is easy to come by, but one you trust is a rarity in his mind. That doesn't stop him from being a friendly sort though. He is always seen smiling. Asashio is probably one of the best known ninja throughout the village of Cloud. This isn't so much because of anything he's done as a ninja, but more so due to his outgoing nature. He may be hard to gain as a friend, but he's one of the easiest acquaintances anyone can be around. Laughter is his passion. Passing up the opportunity to make a joke or create a comical situation is something he is just incapable of doing. At times this tendency has brought things from bad to worse for all those involved.



purpose


Live a life full of laughter. Whether that is the result of a joke, or someone else suffering is not his concern.

[/ul]
[/font]