Post by kama on Sept 12, 2012 14:25:35 GMT -8
[atrb=border,0,true][atrb=style,border: solid 8px #283746; btable; text-align: justify;][atrb=style, background:url(http://img229.imageshack.us/img229/9294/amochejp6.jpg); width: 450px;]

+| generalidades;
---
[style=float: left ; background:#773344; padding: 2px; margin-right: 3px; line-height: 2.5; margin-top: 3px; opacity: 9.1;]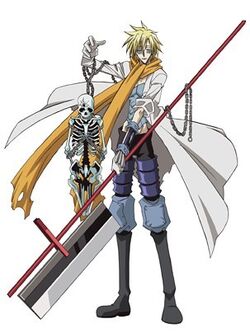 — nombre; Johann Faust LuCont VIII
— apodo; Mephisto
— tiítulo; Chuunin

— edad; 22
— cumpleaños; August 24th
— género; Male
— sangre; O+

— ciudad natal; Hi no Kuni
— villa; Iwagakure
— rango; Chuunin
— profesión; None as of yet

— maestro; Puppet Master
— experto; Fuuinjutsu
— hábil; Kikaichuu
— familia; Aburame

— dificultad; Hard
— poder; 4400
— uno; Ninjutsu | dos; Taijutsu


[/color][/style][/td][/tr][/table][/center]
[atrb=border,0,true][atrb=style,border: solid 8px #283746; btable; text-align: justify;][atrb=style, background:url(http://img229.imageshack.us/img229/9294/amochejp6.jpg); width: 450px;]

+| imagen;
---
[style=float: left ; background:#444444; padding: 2px; margin-right: 3px; line-height: 2.5; margin-top: 3px; opacity: 9.1;]

— altura; 1.72 meters
— peso; 70 kilos
— tez; pale

— ojos; blue
— cabello; blond
— tatuajes; neck & arms

— cicatrices; all over his abdomen
— complexión; athletic
— características; shiners




— apariencia;


Mephisto stands around a meter and seventy centimeters, his complexion resembles that of a slenderly built person though athletic at the same time. The shades of his hair goes on different tones of blond going into a disheveled hair style, with some sort of spikes pointing all directions, specifically, ones at the front that due to its lenght are able to cover up to his eyes if well arranged.

His blue colored eyes go in contrast with the shiners found beneath his eyes, making his eyes to be the very first thing people look at. Due to the lack of a social life, the man tends to keep himself inside buildings, allowing him to retain a pale color onto his skin. As for his body, a giant scar goes from the back of his body and goes to the front, crossing his abdomen.

The man has several outfits to go on a day by day shinobi life. One of them consists on a old fashioned white suit, which consists mainly on a large white coat, while in the inside he wear a white shirt almost as pale as his own skin. on top of it a yellow scarf, long enough to make two turns and still be able to hang from the front. Along with this suit the man wears a hat of the very same color and style as the suit, though this one with a black line at the base of it.

Another outfit he tends to use while on difficult missions is a black shinobi outfit. On top of it, the typical black shinobi vest is worn, having the Iwagakure symbol on its back.

And finally, the most usual outfit worn by the puppet master is one that consists only of a large white cloak, of the type of a scientist, with several hidden bags that allows his items to be stored in secret and easily accesed if needed while in the middle of a battle.

His lower part, no matter the outfit is always the same, a black pair of pants, spandex, allowing him to have the best mobility available. As for his feet, the blond man always wears large black boots made out of rubber, giving him enough protection for any obstacle the battlefield may offer.

His large coat is mainly used to hide his own kikaichuus beneath it, though it is always worn due to personal fashion since Mephisto is a fan of medicine and everything related to it, clothes included.
[/color][/style][/td][/tr][/table][/center]
[atrb=border,0,true][atrb=style,border: solid 8px #283746; btable; text-align: justify;][atrb=style, background:url(http://img229.imageshack.us/img229/9294/amochejp6.jpg); width: 450px;]

+| mente;
---
[style=float: left ; background:#444444; padding: 2px; margin-right: 3px; line-height: 2.5; margin-top: 3px; opacity: 9.1;]

— sádico; loco
— simplón; bipolar
— sarcástico; feliz

— burlón; elegante
— esquizofrénico; cordial
— solitario; sonriente
— vengativo; indagador

— investigador; curioso
— analítico; pensante
— frío; antisocial
— personalidad múltiplie; raro



— pensamiento;


Unlike what most may think due to his appearance, the man is rather a comical and talkative person, though just as most thinks, he has a hidden sadistic personality who enjoys torture and pain of others. As for his good personality, which remains most of the time, the man holds a giant smile upon his face. His sense of humor is both, twisted and stupid, making disgusting jokes whenver they are not needed or when nobody expects it.

Despite having a particular smile upon his face, the rest of his persona makes it creepy, making it look scarier than without smiling. As for his bad personality, which shows only when needed, whether it be in the middle of a battle, or even whenever he wants, since the man has been seen able to change from personality at his own will, is one that enjoys fighting and killing, though never without a motive, meaning that he will never kill one of his own unless needed. Though due to the same personality, the man tends to unnecessary kill strangers whether they be innocent people or shinobis of other villages, as long as they are permitted to be killed by political relationships between villages and cities.

As he grew up surrounded by puppets he began to develop several personalities, though most of them quite similar to each other, most of the personalities are often seen being displayed onto his puppets, meaning that he will make his puppets acts as human and living beings despite they are not, and even without him noticing it.

[/color][/style][/td][/tr][/table][/center]
[atrb=border,0,true][atrb=style,border: solid 8px #283746; btable; text-align: justify;][atrb=style, background:url(http://img229.imageshack.us/img229/9294/amochejp6.jpg); width: 450px;]

+| acontecimientos;
---
[style=float: left ; background:#444444; padding: 2px; margin-right: 3px; line-height: 2.5; margin-top: 3px; opacity: 9.1;]

— pasado;


TBA




— presente;


TBA






[/color][/style][/td][/tr][/table][/center]