Post by shinobu on May 7, 2011 20:50:58 GMT -8
Shinobu
[bg=222222]




"Freedom is only worth it if it's earned..."
[/color] [/div][atrb=style, background:url(http://i788.photobucket.com/albums/yy166/TaiTai001/wallpaper_800x600_1627-1.png); width: 400px; border: solid 4px #444444; btable; text-align: justify;][cs=2][atrb=cellspaing,0px,true][atrb=cellpadding,5px,true][atrb=cellspacing,0px,true][atrb=width,400px,true][atrb=padding,5px,true]
PERSONOLOGY
||
✿
Name: Shinobu (Alias) Hyuuga Kaede (True name)
✿
Age: 15
✿
Gender: Unknown
✿
Clan, BL, or Kekkei Touta: Hyuuga (Side branch)
✿
Country: Hi no Kuni
✿
Hidden Village: Konohagakure
✿
Village Rank : Genin
✿
Profession: None
✿
Difficulty Setting: Hard/Advanced
✿
Types:
Primary - Taijutsu
Secondary - Ninjutsu
Tertiary - Genjutsu
PHYSICALITY
||
✿
Height: 6'2"
✿
Weight: 180 lbs.
✿
Apparel:
Kaede is commonly seen wearing an orange straight jacket, arms generally folded around their body in a hug, although the ends are not usually attached as a criminal's would be. The jacket also has a hood, which covers Kaede's head. This is accompanied by a mask, which completely hides Kaede's face. The Hyuuga's legs are adorned by a pair of beige pants, which have four orange "straps" that dangle from it, each ending in a metal hook. Unlike standard shinobi, Kaede prefers to wear black, heavy duty boots.
Underneath the sleeves of Kaede's straight jacket, the Hyuuga's arms are completely bandaged, revealing no skin no matter how far the sleeves are rolled.
✿
Body Appearance:
Kaede's actual form is little more than a mystery, as of that the Hyuuga's outfit shows very little in the way of skin to anyone. However, it is fairly safe to say that the teenager's form is tall and slim.
✿
Hitai-ate:
Kaede's forehead protector is not shown, though it could possibly be hidden underneath the mask...
✿
Blemishes & Scars:
Kaede shows nothing of their form to anyone, however, should the mask of the hood be removed for any reason, one would find a black scar, a line drawn across Kaede's face, starting beneath one ear, stretching just between lips and nose, and ending below the other ear.
As a member of the side branch, Kaede also bears the green marking on their forehead, the seal that disallows them to betray the main branch.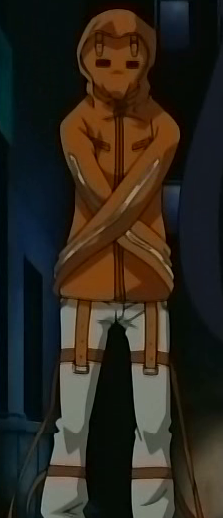 COGNITION
||
✿
Personality:
Kaede tends to be very spontaneous in their personality, usually acting a different role dependant on the person they are dealing with. Overall, however, Kaede's outlook on life is very grim, basically stuck in a life of servitude. Kaede hopes to one day overcome this, and gain freedom...
✿
Alignment: True Neutral
✿
Allegiance: Konohagakure/Self
✿
Quirks & Tendencies: None that are outstanding.
✿
Likes & Dislikes: Kaede likes quiet, relaxing, and the thrill of battle. Kaede dislikes "high and mighty" people, spicy food, and loud, obnoxious children.
Created by Taiga
[/td][/td][/tr][/table][/center]