Post by johnny. on Sept 23, 2011 14:14:56 GMT -8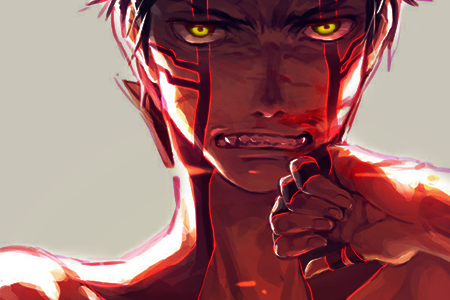 AESTHETICS;

Name: saito kojiro "koji"
Alias: tattoo'd freak

Age: twenty-two
DOB: july 13th
Gender: male
Blood Type: o-
Laterality: right-handed

Birth Land: despite the cultural influne
Village:sunagakure no sato
Rank: genin
Profession: bounty-hunter

Clan: kojiro was birthed into the sumi clan, through his mother - though his father originates from the sandy dunes of sunagakure. still, koji has adopted many of the clan habits, and is a practicioner of ink jutsu.

Kekkai Genkai; none
Kekkai Touta; none
Difficulty; expert.

✘ Primary; Ninjutsu

✘ Secondary; Taijutsu

✘ Elemental Release(s); Suiton



FACADE;
Height: 5'7
Weight: 125 lbs
Skin Tone: pale-tan
Eye Color: topaz
Hair Color: ebony



Appearance;



kojiro is a gem among the suna society. while much of his physique and appearance is reminding of the natives of the kaze no kuni desert, koji has took his art to extreme levels to make himself stand out. from ankles to the peak of his head, think jet bars span his body in intricate patterns. his pride in his artwork is visible due to the lack of clothing, and how often he protests covering his torso unless under extreme conditions. while there is no absolute meaning for the tattoos, or at least a meaning shared to the public, koji seems very delicate over the matter when discussed. the ink on his body seems to hold some properties that resonate with extreme chakra levels. when the flow is increased in his body, his tattoos begin to illuminate with the channeling chakra. the levels necessary are extremely high, and he's only experienced the phenomena during high-level jutsu with sumi clan techniques.

as for attire, kojiro dresses fairly light, generally just adorning a pair of ebony shorts that are fitted to his frame. if he does wear anything else, they would be large garments such as cloaks and kimonos, though the latter is for traditional use that his mother passed down to him. koji is indecisive with his headband location, but for the most part, it can be found tied around his upper right bicep.



ASPECT;
cognition;



kojiro is quirky to say the least. while intelligent and well-mannered, he has always strove for individuality - a remnant of his creative side. in such case, his potential has been titled 'corrupted' by his newfound persona. it's almost as if he has been driven to insanity, and an insatiable hunger for theatrics and fantasy has haunted his imagination. this impish soul is tainted with the desire for entertainment in which case - his mouth runs nonstop with pretentious nonsense. there is importance to his words - but whatever that is is often hidden by the pure amount of sarcastic vocabulary. in an almost cynical nature, it's hard to take whatever the man says seriously, and at the same time, he is a person compelled to the moral obligation of the truth, no matter how spun up in riddles and metaphors it is. often this is mistaken for lies.

despite his tendency to lose track of reality and throw himself into the center stage of an imaginary play, kojiro does understand the idea of situational-behavior. he hasn't taken his mental ability for granted and does exercise his strategic vantage fairly often (especially due to his combat position as an offensive-support). when the time calls for a presentable character, he can become that. his family has always been in close-proximity with the upper-class of suna, and he has learned the trade skills to be accepted by them. in addition, he holds duty to a high standard, and takes his job seriously, albeit the snarky comments that he makes now and then.

it's almost ironic how 'just' kojiro is, virtuous to the bone, and motivated to the brim. his looks often say otherwise, but he tries to advocate the message of, "don't judge a book by its cover." even so, there is a demon in his body, one with a twisted idea of mercy to enemies. while his mischievousness can almost be considered playful, foes will find themselves begging for a quick death. hey, he had to live up to the image somehow.