Post by sachi on Dec 21, 2012 4:18:03 GMT -8
[atrb=border,0,true][atrb=style,border: solid 4px #444444; btable; text-align: justify;][atrb=style, background:url(http://i788.photobucket.com/albums/yy166/TaiTai001/f3i8bc-1.png); width: 350px;]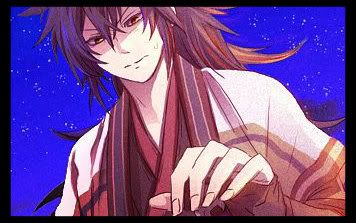 "Tomorrow's battle is won during today's practice."
✘| aesthetics;
---
—
Name;
Hoshimitsu, Isamu
—
Aliases;
--
—
Titles;
--
—
Age;
15
—
Date of Birth;
August 16th
—
Gender;
Male
—
Blood Type;
O -
—
Laterality;
Righty
—
Birth Land;
Iron
—
Village;
--
—
Rank;
Adept
—
Profession;
Samurai
—
Clan;
--
—
Kekkai Genkai;
--
—
Kekkai Touta;
--
—
Difficulty;
Advanced
—
Experience/Pool;
6125
✘ Primary; Taijutsu

✘ Secondary; ---

✘ Elemental Release(s); --
[style=float: left ; background:#444444; padding: 2px; margin-right: 2px; line-height: 0.5; margin-top: -2px; opacity: 0.8;]
✘| facade;
---
Height; 5'9"
Weight; 138 lbs
Skin Tone; Slightly pale
Eye Color; Bright yellow
Hair Color; Long, dark blue

— Apperance;

Link


Isamu's body is what you would expect of an agile boy and samurai. He has been undergoing rigorous training -- both mental and physical - since he was able to hold a weapon. Being the grandson of the Shogun, Isamu has had access to the most elite training the Samurai have to offer, and his body has begun to take shape as you'd expect. He has long, agile limbs and his body is covered in lean muscle, his focus on speed and technique slowly but surely crafting the perfect swordsman's build.

His most notable trait is his unusual hair colour; being a deep blue, it has somewhat become his trademark. He has grown his hair out since birth, often wearing it back in a ponytail so he doesn't obstruct his view. As for clothing, he usually wears a traditional black and red kimono, usually accessorised with a long scarf around his neck and a pair of wooden clogs. He has yet to earn his power armour, but he trains every day, eager to become a full-fledged Samurai.

✘| aspect;

---
— cognition;

+ Courageous
+ Loyal
+ Dedicated
+ Ambitious
+ Friendly

- Hates shinobi
- Impulsive
- Perfectionist
- Excitable
- Reckless



✘| chronicles;

---

— Prologue;

Isamu's family history has ultimately been what has shaped him into the man he is becoming. Being the direct descendant of the Shogun - the legendary Monzaemon - he has known a life of privilege and dedication. With the death of his parents and his sister, Isamu has always lead a sheltered life, samurai being assigned to guard him ever since he was young, always following him (even when he'd try to lose them!). His Grandfather is fiercely protective, and has taken it upon himself to train Isamu personally, and as you could imagine being trained by literally the most fearsome swordsman in the world has its perks!

Quickly on his way to becoming a full-fledged Samurai, Isamu tries his best to learn from his Grandfather, aspiring to be as strong as he is some day - and although a bit of a long shot, it's easy to see that the apple doesn't fall far from the tree, being a master swordsman at the age of 15. Isamu is almost ready to take on the world and do his duty as a Samurai, to uphold the Hoshimitsu name and to make his family proud - he just has to find the perfect balance between teenage stupidity and becoming the greatest swordsman he can be!



[/color][/style][/td][/tr][/table][/center]