Post by ☆ HYP ☆ on Jan 9, 2012 23:05:41 GMT -8
不幸 一死 人死に

[/color][/i][/ul]
Hozuki Kaien
[/s][/i][/font][/size]
[/right]
[/font][/color]
[/li][li]Gender – Alpha Male
[/li][li]Birth Country – Mizu no Kuni (Water)
[/li][li]Hidden Village – Kiri (Mist)
[/li][li]Difficulty –
Hard/Advanced
[/li][li]Alignment – Chaotic Neutral
[/li][li]Kekkei Genkai!


Hozuki – Whereas many Kekkey Genkai rely on certain unique powers born from the very blood within, a few of them take this skill a step further, incorporating the nature of something else - say, a release - and enhancing anything the user could possibly do with it. In this case, the Hozuki's uniqueness comes in their ability to create instant hydration from any cell within their bodies. In essence, after much training the clan member is able to hydrate their body on command, turning a once solid and dense limb into a body of water malleable to touch...
[/li][li]Rank!


Jounin – Jounin, signifying elite, are ninja who are highly skilled in all jutsu skills and arts. Ninja attain the rank of Jounin through official appointment which varies by village and is given at the Kage's discretion. The Jounin generally serve as squad commander for mission operations, and are skilled at all of the shinobi arts.

[/li][/ul]
[/ul]
[/font][/color]


Methodology




Psychical Talents



Chakra

[/ul]
[/font]


Height: 4"9"

Weight: 115 lbs.

Hair: Azure

Eye Color: Gunmetal Blue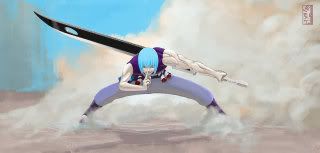 Utilizing his blood to his utmost advantage, Kaien relies on little weaponry or accessories outside of his fists and scarce shinobi tools. Due to his constant liquefaction, little boy blue dons little clothing, though at the same time while still managing to remain respectable - his villages flack jacket, black, adorns his torso though nothing more, with a pair of equally black body-fitting pants. Finally, some sturdy ninja tabi boots cover his feet, the only other accessory outside of the Kiri headband wrapped around his neck which gives away his purpose in this world.

[/ul]
[/font]




philosophy...



Being too young to have any worth wile outlook on life, Kaien prefers to follow the orders of his "papa" and his older "brothers"; that is, the sect of seasoned shinobi that found the abandoned child and brought them back to Kiri once his talents were discovered. He is always kind to those that initiate it, though never goes out of his way to initiate contact.

Rather than thinking himself antisocial, the boy enjoys the simplicity of living the life of a "prodigy", which includes his entourage establishing who and what he shares contact with. Like a guarded prince with no true royalty other than that which stands to be exploited, he's a ticking time bomb of luxury and couture. As such, for now, he's as confident and happy as ever...



morality...


Though young, he's lived long enough to understand the basics of right and wrong. His world, though rigid and strict in terms of his shinobi dealings, depends mainly on the objectives and challenges placed on him by his family. As such, once his headband is fastened and tightened and his mission begins, only the glory and praise of those he "loves" matters. Morality can be left for the sandbox.



purpose...


To serve the ones which brought him from nothing, the elders of Kirigakure and the seasoned shinobi forces they command. Being a Suiton powerhouse, he has been entrusted with the defense of his homeland, as well as the security of those that matter most within the hidden village.

[/ul]
[/SIZE][/font]