Post by SALT. on May 9, 2012 13:03:07 GMT -8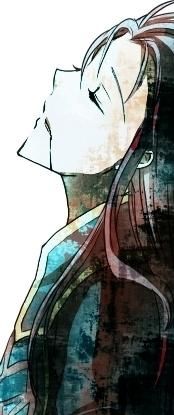 basics!


Birth name: Hatake Hakoda
Moniker(s): --
Age: 18
Homeland: Hi no Kuni
Village: Kumogakure no Sato
Rank: Genin
Profession: --

in-depth!



Difficulty Setting: Advanced
Clan: Nara
Kekkai Touta: Shouton no Jutsu
Kekkai Genkai: --




The boy looks about average for his age. He stands at a height of five feet, eight inches, nothing special or out of the ordinary for a child his age. Below average, if anything. He weighs around one hundred and thirty pounds, giver or take a few. As part of the shinobi corps, he's been enduring rigorous training regiments. A member of the village's military has to be fit, right? As such, his body is lean and limber, yet impressively toned and muscular, though lacking bulk. His skin is ivory-colored and completely blemish free. His visage is handsome enough, but if not for his sanguine eyes he'd be nothing special. His locks, which are long and flowing, bear an odd, redish hue, not unlike that of his eyes. He dons the garbs of a man who is more likely to be the knight in a children's book than a soldier in the shinobi corps. His ruffled, collared shirt and his slick, ivory-trimmed vest bear different shades of violet. He wears a brown belt with a large, silver buckle, slim-fitting dark slacks, and a pair of ragged, gray combat boots. He wears his Hitai-ate like a necklace around his neck.

The boy thinks differently than many of his comrades. While he is, in fact, a shinobi - meaning that he is a tool of war - he holds the idea of peace with high esteem. When he was younger, he was against fighting and using violence to achieve his ends; as a shinobi, he only used force if he absolutely had to. As his life as a shinobi went on, he found this idea hard to stay true to. Though still very much a humble, sweet fellow, he is more prone to and finds it easier to use brute force to achieve his ends. He will fight to the best of his ability and, depending on the threat level, might attempt to strike with potentially fatal blows. Despite this, he maintains a respectable demeanor when he fights. He will never strike a foe from behind nor will he ever strike a foe when they are down. And, astonishingly as others would believe it, he gives everyone the benefit of the doubt. He believes that all people have some good in them and that anyone can change. This sets him apart from other shinobi, most of whom dogmatically believe their enemy is and always will be their enemy.




etc!



Alignment: Neutral Good

Neutral Good is known as the "Benefactor" alignment. A Neutral Good character is guided by his conscience and typically acts altruistically, without regard for or against Lawful precepts such as rules or tradition. A Neutral Good character has no problems with co-operating with lawful officials, but does not feel beholden to them. In the event that doing the right thing requires the bending or breaking of rules, they do not suffer the same inner conflict that a Lawful Good character would.


Allegiance: Kumogakure no Sato
Talents:
Releases:
goals!


- regain his lost memories
- find a sensei
- attain world renowned status
- find Kairi