Post by taiga1 on Apr 17, 2011 17:52:20 GMT -8
[bg=222222][atrb=border,0,true][atrb=width,400,true]



Virgin lucidity 'Shojo Tatsui' [しょじょ たつい]
[/i][/right]
Detailed Information//
[/i]


Name
Tachiana Yoko

Age
Sixteen

Clan, BL, or Kekkei Touta?
None

Country and/or Village
{Kaze no Kuni.} Sunagakure no Sato.

Rank & Profession
Genin/ Sensor/ medical ninja

Difficulty Setting
Hard / Advanced.

Types
Primary: Ninjutsu
Secondary: Genjutsu

'Clear and lucid'
PHYSICALITY
[/u]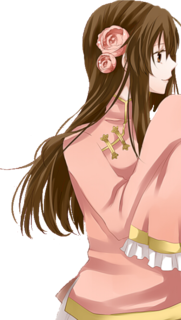 Height
5'3


Weight
112


Apparel
Outfit

Yoko wears her headband tied to her sash. Her skirt follows down into fitting pants, just a few inches above her knees. Her sleeves overlap her hands draping to the ground.


Body Appearance

With brown hair, and brown eyes Yoko doesn't have any features that make her stand out. However she has a natural beauty, great form, and pretty face.


Blemishes & Scars
None

COGNITION
[/u]


Personality

Regarded as well mannered and articulate when speaking, one would suspect she were of noble birth. Yoko can be described as haughty at times as well as playful. Yoko's attitude and disposition can be harshly blunt at times, causing others to form a misconception about her.She enjoys a good drink even though she not very good at holding her alcohol.

Genuinely intuitive. Yoko has a keen eye for her surroundings and the things that reside within the world. Curious by nature she can't help but touch things meant not to be touch, wander to where one is not suppose to go and ask whats not meant to be asked. Though Yoko can be self centered at times as if the world revolved around her. Bold she is one to speak her mind, never holding her tongue for any person.

Yoko is also known for her seductive side often tempting men with her body, words, and gestures. She can be cold hearted just as she could be kind. Merciless in battle most would think she was bloodthirsty, however she is cunning, daring, and mischievous. She is a woman who can not be trusted by strangers. Deceitful, is a very manipulative person often using other for her gain.


Alignment
Chaotic neutral


Allegiance
Herself


Quirks & Tendencies
Constantly covering her mouth when she speaks


Likes & Dislikes
Men.

Those in power.

People who speak their mind.

Bubble baths.

Sweets.


---


Cowards.

Weaklings.

Filthy things.

Spicy foods.

Fat men.


[/blockquote]
[/td][/tr][/table][/size][/color][/center][/size]