山中暗い
Jul 20, 2011 10:46:10 GMT -8
Post by BLKND on Jul 20, 2011 10:46:10 GMT -8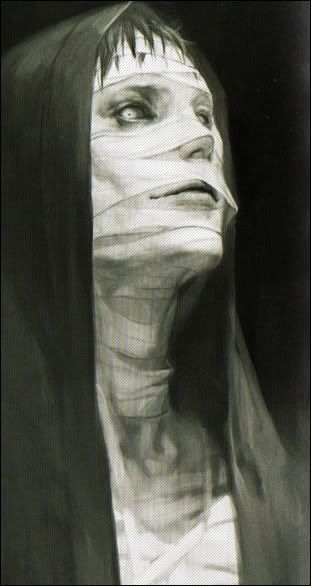 INTIMACIES
▬▬▬▬▬▬▬▬▬▬▬▬▬▬▬
NAME
:[/b] Yamanaka Kurai
(mother's surname)
AGE
:[/b] 18.
BORN ON
:[/b] January 1st.
CLAN
:[/b] None.
BORN IN
:[/b] Unknown.
VILLAGE OF ALLIEGENCE
:[/b] Kumogakure no Sato.
While both of Kurai's parents were born in Kaminari no Kuni, as well as the rest of his siblings, it is his individual birthing that is kept under lock and key. Being somewhat of a family secret, he is aware of the mystery, however has yet to think much of it.
RANK
:[/B] Chuunin.
PROFESSION
:[/B] Shinobi.
DIFFICULTY SETTING
:[/B] Advanced.
• PRIMARY: Ninjutsu
• SECONDARY: Taijutsu
• TERTIARY:Genjutsu
HEDONISM
▬▬▬▬▬▬▬▬▬▬▬▬▬▬▬
HEIGHT
:[/B] 6'2"
WEIGHT
:[/B] 158lbs
PHYSICAL FORM
:[/B] Rarefied Athletic.
BLOOD TYPE
:[/B] A-.
NINJA IDENTIFICATION
:[/B] 020261.
HAIR COLOUR
:[/B] Obsidian.
EYE COLOUR
:[/B] Ebony Sclera ; Golden Irides.
Kurai's attire is befitting for his condition. Normally dawning a myriad of bandages which span across his entire body, the mystery of the man's true appearance holds true to even a majority of his fellow clansmen. His appearance having only been revealed to his immediate family members, his slender, sickly body is only accompanied by the lightest of attire. Aside from the extensive bandaging that covers him, a short, slick, black kimono covers the contours of his torso and thighs. The sleeves however appear to be slightly extended as well. Covering the entire length of his gangling arm, it covers everything save the shinobi's knuckles and fingers when not bent. While initially appearing to be an astute minimalist, upon closer appearance one can notice the black stitching of the Yamanaka clan symbol covering the entire exterior of the kimono in a sequenced formation. The interior of the garment is completely silk, due to the need for absolute comfort for his attire. The print consisting of a patchwork design of a number of golden mesh colors. The massive black rope obi which ties into a bow behind the back of the shinobi is also a slight testament to his identity, as well as his namesake. Often thrusting the kimono sleeves from his arms during combat, the exposure of the silk completely changes what With his kimono being void of any sort of pocketing or straps, it is this tightly wound belt that houses the entirety of the young man's arsenal. With his shinobi pouch cast tightly around the back side of the belt, it is here that the young man's sword can also be found, dangling loosely from the rope belt with a strap specific to the blade. However, this bade is directly behind the ninja, attached diagonally, next to the item pouch. Finally, with his need for complete comfort, instead of the traditional position for his hitai-ate, he instead has it hanging from the belt directly in front of his left thigh.

Aside from his unique yet unoriginal clothing, Kurai's slender frame is essentially that of a welterweight fighter. While by no means muscular, his frame is toned, showing his constant training regiment, held back by an inevitable sickness. While not being as intense as a taijutsu user, Kurai's frame shows that he can still hold his own in a close-range scuffle for a short period of time. However, aside from his athletic frame, Kurai holds a very evident blemish which remains eternally hidden behind the incredible amount of bandages. While no one is aware, under these bandages lies an almost perfect body. In addition to this, he is what most women would call 'authentically good looking.' With smooth, copper skin, and an above average stature, he is the definition of tall, dark and handsome. With barely any sort of blemish, Kurai's body is a victim of an unknown disease that he developed as a small child. While no doctors can diagnose the illness, the symptoms are very similar to that of tuberculosis. This is also the reason for his unique and ungodly eye discoloration. While there is no reason for Kurai to hide his body, the unknown elements of the disease have caused Kumogakure doctors to advise the young man's skin to be covered to prevent any sort of possible contamination. However, considering that Kurai's immediate family has yet to catch his disease, it is assumed that this disease is not contagious.

Kurai's jet black hair is unique in that it is rarely seen. While still cut on a regular basis, it grows at an impossible rate, often bursting from the bandages that cover his head. Often sitting just above his neck, the short, silky hair Sitting just above his dark, slender neck he is constantly recognized by his peers due to the odd nature of his hair contrasting his massive golden eyes with horrifying black sclera. His eyes, a mixture of his father's blood and the tainted blood given to him my this disease, he nevertheless takes massive pride in them. Often maintaining eye contact in an attempt to show either superiority or friendship, given the situation, they have become a double edged sword. Incredibly intimidating, they are also unique to him, and for that reason he has come to love them.
COGNITION
▬▬▬▬▬▬▬▬▬▬▬▬▬▬▬
What is the story behind this monster of a man? Having an appearance that would send most children to bed, one can only imagine what circulates through the mind of an ill-bodied behemoth.

STOIC
During his childhood, Kurai was not one of the children that would run through the streets playing tag. His condition has left him with a life of limitation that has confined him to little positive interaction with most people. While far from callous towards them, he is not a quick conservationist. Instead, it takes effort for conversation to flow from the lips of the stolid young man. This however has not prevented him from knowing the benefits of interaction with those around him. Still having grown up with three sisters and a mother, Kurai finds the idea of friendship endearing, but far from necessary. Instead, it is family which is the only thing that has honest worth. Rarely showing a smile to anyone other than his sisters or mother, many people believe him to be completely devoid of emotion. Hardly showing anger or sadness either, perhaps it is the constant exposure to death which has hardened the young man's heart to such an incredible degree. Seeing people more as lavish pursuits than assets, it takes some degree of ability to truly impress the man. However, once impressed, it is still unlikely that you have pierced the man's heart, and instead only revealed yourself as a pawn.

MACHIAVELLIAN
While anger is no where near the circulation of this man's heart, and happiness comes few and far between, Kurai still engages in the carnal reveling in enjoyment. If not having his nose burrowing into the pages of a novel, or poem book, Kurai will gladly play a quick round of human chess. With little exposure to friendship, people have become nothing but chess pieces to the young man. For that reason he has developed an intensive case of mental instability. While not being insane by any means, Kurai is a vehement sociopath case. In the end, it is the benefit of himself and his family that matters before the feelings, harm and future of anyone that he comes across. Quick to eliminate a liability, his condition does not limit him to not being able to see things in a bigger picture. For this reason, conversations with Kurai are rarely dull, and if anything are frightening. Not afraid to ask questions necessary for his control over an individual, he is an avid learner. Wanting to discover a strategy to manipulate those around him.

ERUDITE
An avid learner, Kurai cannot help but spend a majority of his time either reading, writing of philosophizing. Enjoying most of his time alone, he uses it to reflect not only on himself, but the possibilities of advancement that he will inevitably require. For that reason he has become obsessed with knowledge, claiming that it is the real key to power. Instead of knowing what it takes to benefit, he instead believes that if an individual knows everything, then he has already discovered how to make himself benefit, make his allies benefit and how to prevent his enemies from benefiting. While the theory is sound, it often leaves him to over analyze things, and think far too logically. Instead of using his gut, he is instead intent on using his mind to what it takes to prevail. Never afraid to listen, he does not see the need to input his opinion of it is not called for. No doubt due to his need to 'know,' he doesn't like to divulge the information that he is aware of, no doubt due to a fear of his enemy knowing more than himself.

To be continued...

LIKES:
[/B]
• When a plan is a success.
• Poetry.
• White Skies.
• The Color Black.
• Opera Music.
• Family.
• Novels.
• Cleanliness.
DISLIKES
:[/B]
• Idiots.
• Warm weather.
• People who are unconfident.
• His illness.
• Anything loud.
ALLEGIENCE
:[/B] Kurai holds an avid allegiance to his village of Kumogakure no Sato. While his family holds higher priority towards the ninja than the village, he holds no comparison between the members of his family. With a desire to remain loyal to the both of them, his goals would be to keep his family united for as long as he is alive.[/ul][/justify][/blockquote]
ALLIGNMENT
:[/B] Pure Neutral ; Chaotic Neutral due to being sociopathic.
QUIRKS
:[/B] Kurai has few quirks, however despite being few and far between, they are quite noticeable. The first is that he is often caught using synonyms for his name in his sentences. Often referring to things as either dim, dark or pessimistic it is a trait of many Kumogakure-nin. Secondly, occasionally Kurai will quote poems that are relatable to the situation that he is in.
RELATIONSHIPS
▬▬▬▬▬▬▬▬▬▬▬▬▬▬▬
[KONOHAGAKURE Shinobi]
None.

[KIRIGAKURE Shinobi]
• Hozuki Misami: A fearsome, red headed woman that defeated Kurai in the Tetsu no Kuni Chuunin Examinations. Incredibly relentless, Kurai notes her as being one of the few people that he has actually grown to despise.

[SUNGAKURE Shinobi]
None.

[KUMOGAKURE Shinobi]
• Yamanaka Saori: Kurai's younger sister. While he is a few years older than her, he holds an ardent bond between the two. Considering that she is one of the only people that he cares for, and she counteracts his personality so perfectly, he is willing to do anything to see her happy.
• Hirihi Rinji: A horribly timid young lady who appears to hold purpose as an experienced medic. While she doesn't appear to be too vicious, it is obvious that she is ready to prove herself as a capable kunoichi. She appears to see Kurai as a friend.
• Sakaki: Defined by her miniature height, the girl is clearly incapable of saying much of anything. That does not stop her from being incredibly bubbly. She is unaware of Kurai's incentives, as she has yet to prove her skills or traits, but she shows an adamant allegiance to Kurai, which he appreciates considerably.

[IWAGAKURE Shinobi]
None.

[OTOGAKURE Shinobi]
None.

[KUSAGAKURE Shinobi]
• Hozuki Fuu: A young man Kurai faced during the Chuunin exams. A taijutsu user that had an uncanny ability to transform into water. While Kurai did not interact with him much, the battle made Kurai a bit fond of Kusa-nin.

[AMEGAKURE Shinobi]
None.

[TAKIGAKURE Shinobi]
None.

[NON-NINJA]
None.

[MISSING Shinobi]
None

HISTORY
▬▬▬▬▬▬▬▬▬▬▬▬▬▬▬
Every character has a history- It's what
made
them who they are today. Events in life shape
people, and can either make or break them.
Discovered through role play!

[/size]