Sairin
Apr 27, 2013 7:25:25 GMT -8
Post by Bit on Apr 27, 2013 7:25:25 GMT -8
Aspiration of a King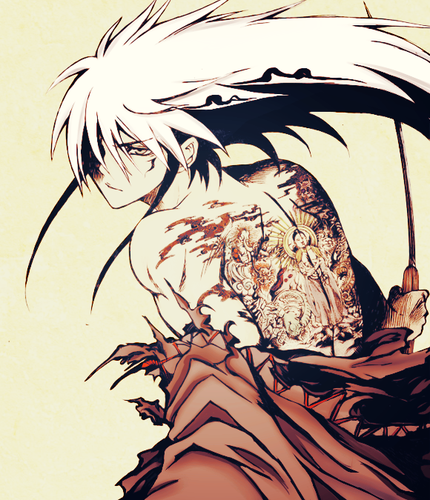 Kaze (Wind)
NICKNAME, "Kaze" A nickname that was bestowed upon Sy when he was a young boy, the name represents his strong affinity for the Fuuton element. He has proven on count occasion that the release itself is a part of him, he has even Innovated techniques that are unique to him into the release.
ACQUIRED TITLES,
• ANBU TAICHOU SohyoKaze
• Sairin (Second Coming)

AGE & GENDER, seven-teen years of age, and male.

DATE OF BIRTH, october 29, (10/29).

BIRTH LAND,Yume Village (Dream Village)

HIDDEN VILLAGE, Kusagakure no satō.

CLAN & KEKKEI GENKAI,
• The Uchiha clan, labeled as one of the deadliest clans to have emerged in the shinobi world. Members of this clan have etched their name into the history of the world on countless occasions, displaying exactly how powerful their fabled Doujutsu the Sharingan can be. To illustrate exactly how the clan has come to be one of the most feared the leader of the last Ninja War, Kouketsu Uchiha destroyed an entire village with his own will. Now that is only one of the few that have brought the clan to power, now Sy feels like it's his turn do the same.
CHAKRA NATURE,
1st fuuton, 2nd Raiton, 3rd Inton.

OCCUPATION & RANK,
• he is a shinobi, with the rank jōnin.
• current experience: 12347!!
• total exp used: 00/12347.

TIER DIFFICULTY, hard - advanced.
1st ninjutsu primary, 2nd taijutsu secondary.
• has 2 massives.

SLOTS,
• Uchiha
• Fuuton
• Katon
• Inton
• none.
• none.

PHYSICAL DESCRIPTION,
• Sy Yume as some might add is a truly unique kid, his general appearance isn't what you'd expect of someone that was seventeen years old. The one thing that people notice at first glance is his unusually large size standing at a height of six feet eight inches, while weighing in at well-proportioned two hundred twenty pounds. His height is from his father side of his family, they're an unusually tall bunch but even he and his brother are a couple inches taller than their father. The young Yume is pretty much at his peak in terms of conditioning for someone his age; his muscles are defined and very tone. Sy doesn't have too many unsightly injuries or scares to his body other than the normal usual scrapes and scratches that a Shinobi has. Though what the boy has done was something that wasn't expected off him, something that his parents weren't even too sure about. But because he felt it was what he really wanted to do he did without anyone's consent, Sy went ahead and got a tattoo that covers his entire back. The tattoo is in dedication to his family's heritage, with a bit of his own added flare. Not many people get to see this tattoo though because he often keeps it covered, but he does plan to add more too it in the future further covering his entire torso in art.

The next thing most people notice about Sy is his actual facial features along with his uniquely colored hair. By far his hair is the second thing most people notice about the Yume, his hair is much like his brothers but his is different because it is actually two different tones. Sy's hair is actually partially white and black, with the hair growing from the top and most of the side of his head being white as snow white the hair growing from the back of his head are colored black. Unlike his most shinobi he allows his hair to grow fairly long, he usually keeps it in a low ponytail that reaches down to about the center of his back. The only time that he sets his hair free would be when he's at home. Now the next thing most people notice about Sy is his unusual eye color, both his eyes have their own unique color. This is one of his most notable facial features; the boy's left eye is a light green color while his right eye is a sky blue color. It's what doctors would describe as a defect but he looks at as a gift.

Sy has always been a well-dressed person thanks to who his father is, he has never had a moment where he didn't look as if he hadn't a sense of style. The shinobi has always been attuned to the darker colors on the color scale with his favorite color being black, which is why most of the times you will catch him wearing mostly all black. The attire that Sy is known for wearing consist of a T-shirt, Jacket, pants, and a pair of closed toe shoes. The shirt that he wears color can change from day to day but he mostly wears a black short-sleeved shirt with the Uchiha clan symbol that is on the upper right shoulder of the shirt, the symbol is no bigger than ones palm. The pants that Sy wears are three fourths of the times all black while having multiple pockets on them , the pants reach down to just above his ankles to show his socks. Sy jacket is one that was custom made for him when he was just a kid, his parents made sure that it was one uniquely made for him and his brother. The jacket has the Uchiha symbol the back with Kusagakure's symbol directly under it, the picture is of course centered on the back of the jacket. Sy wears his headband around his neck in a lose fashion that can be seen by everyone.

HEIGHT & WEIGHT,
• six feet, eight inches.
• two hundred fourty nine pounds.

MARTIAL STATUS,
• single, interested in love.

PERSONALITY,

• Nice - Just as his brother is Sy has always been known to be a very kind person, he's always been the type to give his last for someone in need. He's never been the type to kick someone while they're down, though it doens't always seem that way. He's actually the one that will do something that he actually doesn't have any interest in doing just because he's doing a favor for someone. He's usually in a pretty mellow toned demeanor that most people would call nonchalant.

Family Oriented - Sy has always been the type of person to put his family before anything, even his own village. The shinobi looks at his family as the only people in the world that he truly owes his loyalty to, especially his siblings because those are the ones he came up with. His family are the people that he will lay everything on the line for at the end of the day, he'd even goes as far to give his own life to make sure that he protects them. It's not often that you'll ever find him giving any of them any shade, nor would he ever think to do anything evil to them.

Trustworthy - The young Yume has always been the type that someone could trust with just about anything. He's never been one to give away peoples secrets, most people can say that he is one of the most loyal people that they know. Also to add to that he's also the type of person that can be trusted with any task, he's always working to maintain his stainless record of completing assignments giving to him. Most people say they can trust Sy with anything, even there most personal secrets or even the most important task.

Asshole - Though Sy has always been a very nice person at heart, coming up with his brother and sister he has learned to be a bit of an ass at times. He loves to be sarcastic, pull pranks, and laugh make fun of others short comings. Sometimes it may even seem as if he has some type of superiority complex, because he tends to talk down to people at times. Even though that's not the case, because he's parents did a good job to keep it from growing that far. But in time if he continues to get stronger things may change...

Hard worker - Sy has always been the type to put training before many things in life, he's always been the type to be training until he fell asleep where ever he was working out. The shinobi believes that the only way to be able to properly protect the people around him is through working hard to be stronger than them all. Also when it comes to completing missions and task for the village he feels that it's his obligation to be the power house during those, it's just him having to feel like he can protect the ones around him.

Friendly - There isn't much to say about this, Sy is a fairly friendly person. He doesn't call everyone his friend but he's always been one to be quite sociable.

Reckless - At times The shinobi puts him in situations that even he his self-known is too much, but he doesn't really care. He feels that if he risks it all and makes it out then he'll come out a strong person, he doesn't see anything as too big of a challenge for him to overcome. His motto has always been "Where there is a will there is a way."pressure.