Post by Taros on Jun 13, 2011 0:07:46 GMT -8
[bg=222222][atrb=border,0,true][atrb=width,500,true]



Character Name:

Uchiha Shishitaros

Konoha's Raging Lion /\ Konoha no Mou Shishi



PERSONOLOGY.....



---
[-]Gender: Male

---
[-]Age: 16

---
[-]Birth Country: Tetsu no Kuni

---
[-]Hidden Village: Konohagakure no Sato

---
[-]Shinobi Rank: Genin

---
[-]Occupation: Takumi

---
[-]Difficulty: Normal

---
[-]Blood limit: Uchiha

---
[-]Shinobi Skills:

---

[-]Release:Katon
[-]Primary:Taijutsu
[-]Secondary:Ninjutsu
[-]Tertiary:Genjutsu


[/blockquote]
---
[/font]
PHYSICALITY
…..[/b][/u]



Five-Feet Ten-Inches & One Hundred-Eighty[/i][/right][/blockquote]
A
ppearance
:
[-]Body[-] Shishitaros was always quite different from most of his family in terms of his body. He stood Five-feet and Ten-inches at the age of sixteen. To find his own individuality the boy uses a washable dye to hide his long slick black strands of silk under the temporary soft blonde dye. For his age he was also quite muscular because of his love of training preparing for real life combat, his talents in Taijutsu skyrocketed.
---
[-]Clothing[-] The typical Academy and Genin Shinobi are gifted to choose their own clothing of course at the expense of their parents. Since this world is like that the young Shinobi; Shishitaros often found himself creating new styles of clothing being the son of a craftsmen this creative aspect flowed through every veins. Typically Konoha's Raging Lion preferred to wear clothing that could be proper for most occasions. Mostly known for his black yukata modified with holsters and pockets against the gentle fabric. A T-shirt, or a black sleeveless shirt were his second choices, and finally the black cargo pants with the hidden pockets also black in color. Around his waist were various obi's most noticeably the Green, White, and Red which showed homage to his family, village, and state of mind.
---
T
he
C
lothes
:
[/font]ARMAMENTS…..[/b][/u]



[/right][/blockquote]
P
rimary weapons:
---
---
S
econdary weapons:
---
[-]Kunaix2
---
[-]Ninja Wire(20 ft)
---
[-]Explosive Tags (10)
---
[-]Wrist Blade
---
A
accessories:
---
[-]

Rank:C
Description: The tools of a craftsman can vary, from hammers other tools used in fixing and creating, but will always yield the same result.

:
Within a black shoulder bag the Lion carries.
---
[-]

Rank:C
Description: Material used for crafting.
Often kept within another black shoulder bag.[/size]
---
[-]World Map:
Often tucked within one of the pockets, but always kept.
---
[-]Straw hat:
Usually carried at his side tied to a sash.
---
[-]Pipe:
Stolen from his father though rarely used.
---
[-]Paint&dye kit:
A small face paint&dye kit
---
[-]Greenish yellow contacts:Contacts that he received from his parents when he was given his nickname.
---
[-]Black scarf: Used to hide his blonde hair for stealth.
T
he
A
rmor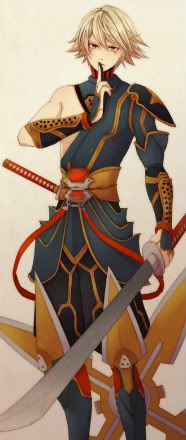 [/font]
COGNITION.....



[/b][/right]
[/u][/b]
"
I
'll
F
ind
T
he
O
ne
"
---
Shishitaros loves to enjoy a conversation; however it isn't usually enjoyed by others. He could go on, carrying a conversation with even a dissatisfied person. Comical in nature, he loves to push people beyond their comfort zone to illicit a response. Often his mouth gets him into trouble more so than others.
"
T
o
F
ree
M
e
F
rom
T
his
F
ate
"
---
He has natural charisma the innate skill to be a leader. Secretly, he couldn't fathom such responsibility and resorts to utilizing and snide comments and back talk. In non-lethal combat situations his personality in still the same, unless his or the lives of his comrades is on the line. He becomes mute like and responds to conflict with strategy and all of his energy. Too his friends and family he is extremely loyal, sometimes it becomes clouded by his twisted form of humor. Whether they do or don't know it he would throw himself upon his blade for their lives.
"
E
verytime
T
he
M
oon
S
hines
"
Without these people helping him grow as a person he'd of likely been killed. They mold his personality into something more productive than he has been. His personality is on the brink of a shift, between that of good and evil. The good that comes from his allies, combated with evil of the shinobi world.
I
B
ecome
A
live
."
---
Regardless of the shift he will always have his pride at stake when it comes to the matters of protecting these people in his heart and his family. Vowing to rip into a enemies throat with his own fangs if it would protect them, this vow and his aggressive style earned him the name 'Konoha's Raging Lion' [/blockquote]
[/size]
Allegiance:


---

[-] Uchiha


---

[-] Konoha


---

[_________________]


---

Alignment: Neutral Evil


---
[/size]
---
L
ocations
:
[-]Konohagakure no Sato
---
F
riends:
[-]
---
E
nemies:
[-]
---
Quirks & Tendencies:
[-]Watching Others Work
[-]Crafting
[-]Helping The Village
[-]Training
[-]Saying His Catchphrase

---
---
L
ikes
:
[-]
T
rading
[-]
M
usic
[-]
K
enjutsu
[-]
T
raining
[-]
F
amily
[-]
W
orking
[-]
T
he Ladies
---
Dislikes
:
[-]
S
ad people
[-]
H
orrible people
[-]
D
isrespectful
people
[-]
P
oor weaponry
[-]
G
enjutsu
[/blockquote]
[/color][/size]
[/ul][/font]
[/td][/tr][/table][/color][/justify]