Post by Taizo on Jul 26, 2011 17:35:56 GMT -8
[atrb=cellpadding,10,true][atrb=border,0,true][atrb=cellspacing,0,true][atrb=width, 450, true][atrb=rules,none][atrb=valign,top][atrb=style, background: #2c2c2c; -moz-border-radius: 20px 0px 20px 0px; border-radius: 20px 0px 20px 0px][atrb=style,padding-top:15px;][atrb=align,center]

Ryū, Sudachi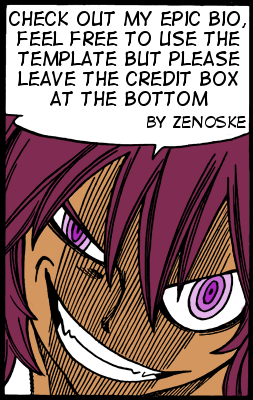 Basics
Name: - Ryū, Sudachi - 龍, すだち(Dragon, Sudachi)
Alias(es): - Kirigakure no ryū. - 霧隠れの龍(Dragon of Hidden Mist)
Age: - Eighteen
Gender: - Male
Alignment: - Neutral-Evil
[/u] (Pure Evil)
A neutral evil [person] does whatever he can get away with. He is out for himself, pure and simple. He sheds no tears for those he kills, whether for profit, sport, or convenience. He has no love of order and holds no illusion that following laws, traditions, or codes would make him any better or more noble. On the other hand, he doesn't have the restless nature or love of conflict that a chaotic evil villain has. A thief and a mercenary is an example of a Neutral Evil [person].
Birth Country:
- Mizu no Kuni (Water)
Village:
- Kirigakure (Mist)
Rank:
-
Genin
Genins are the lowest rank of ninja. Once an academy student becomes a genin, they are assigned a jounin instructor with two of their classmates. This group is taught by their jounin and perform basic jobs commissioned by the village. This typically means that they are required to do remedial, labor-intensive jobs that require little or no combat.
Kekkei Genkai:
-
Airontoku
Kekkei Touta, advanced releases that combine the basic elements of nature, are hailed both for their rarity and power, to the point they are placed on the same level as Kekkei Genkai. However, a rare breed of Bloodlines have emerged with an unparalleled controlled over their Kekkei Touta, more than any other. In the case of the Airontoku, they have a unique hold over Youton unlike any other. Able to withstand the most extreme of temperatures, and even ooze lava from their very bodies, members of the Airontoku clan carry a heat unsurpassed by anyone.
Mental problem:
-
Pyromania
[/b]
A type of impulse control disorder, pyromania is an impulse to deliberately start fires to relieve tension and typically includes feelings of gratification or relief afterward. The term pyromania comes from the Greek word πῦρ ('pyr', fire). Pyromania is distinct from arson, and pyromaniacs are also distinct from those who start fires because of psychosis, for personal, monetary or political gain, or for acts of revenge. Pyromaniacs start fires to induce euphoria, and often fixate on institutions of fire control like fire stations and firefighters.
Current Profession:
-
Oinin
[/b]
Hunter Corps act as an independent body asde from the hidden village whose sole task given is the specific duty of hunting down missing-nin. They could be seen wearing standard armored uniforms similar to ANBU or, in some instances, a colored kimono with a striped, turtle-necked undershirt. They may also wear a mask with thin slitted eye-hole and a wavy design in place of the mouth.
Difficulty:
-
Advanced
Transfer link:
-
NFRP Bio
[/div]
Skills
Battle stats
Handseals - Ten.
Chakra - Low.
Primary
- Ninjutsu
Secondary
- Taijutsu
Tertiary
- Genjutsu
Ninjutsu
-- Lava
-- Fire
-- Water
-- Earth

Taijutsu
--

Genjutsu
--


Clan
--

Miscellaneous
--


Seals
--

Beast Master
--
Appearance
Height:
6'1"
Weight:
175 lbs
Skin tone:
Tanned
Hair:
Deep Purple
Eye Color:
Light Purple rings
Hair, Ryū has long hair that flows down to his chest, it is purple in colour. He styles it so that it is spiky all over, giving his hair a messy look that complements his hair type, this also draws attention to his face and ears. His hair is naturally straight and quite thick, and has quite a lot of texture. Ryū wears a black forehead protector, with the metal plate on the left side of his head it is also tied so that the plate is slightly higher than the knot. The loose material left over from the knot hangs down the right side of his head. A pair of goggles rest on the strip of cloth forehead.

Face, Ryū has heart shaped face as his head is narrow at his jaw line leading to his small chin, but wider at his cheekbones and forehead. Ryū's complexion is pale, spotless and smooth giving the impression that it would be soft to the touch. His skin is tanned making it only a few shades lighter than his hair. As for facial hair Ryū is clean-shaven and his eyebrows are slightly thinner than the average persons. On the odd occasion Ryū wears a gas mask, this came about after he saw a Rain ninja and thought it looked cool. The gas mask covers up to his nose, leaving his eyes uncovered.

Eyes, Ryū's eyes are almost a normal shape but were the eyelids meet is a shaper angle than the normal person so it looks like a point. Ryū's eyes are a purple. Which are normally wide open giving him a energetic look.

Goggles, Ryū often makes use of his goggles, these have one sheet of plastic, with a Black Iridium tint making them perfect in bright conditions. They have triple fleece face foam, to wick away moisture and stop dust entering his eyes. A flexible strip holds the goggles in place making sure they don't move by accident

Mouth, Ryū has thin lips coloured a pale pink that are normally formed into a smile. His teeth are all sharpen, like that of a shark, giving him a menacing look.

Body, Ryū's body is that of a advanced Genjutsu fighter, his whole body is chiselled and well defined. With a major portion of his muscle mass on his arms so that he can make seals faster. The only difference is he has six arms rather than two.

Clothing, Ryū's typical outfit consists of a shirt and pants. He wraps his forearms with cotton strips to help stop injures by compressing the soft tissues in the arm, they also help to stop his forearm guards from chafing. His forearm guards are similar to his shin guards. They are made from metal strips, each one curved so that attacks from a sword are encouraged to slip away rather than cut his arm off. Pieces of string are tied around them to help secure the guards in place, at the end of all the guards is a thick length of white shimenawa. On his bottom left forearm there is a gap on the under side of his guard and wraps, it exposes his the tattoo that is on his arm. To protect his hands Ryū invested in a three pairs of standard black ninja gloves a metal square is present in the middle to offer slight protection.

In general Ryū wears his shirt loose, it is black with a pink design around the edges, although offering little protection, it does to some extent help to cover the mesh top that he wears underneath. Normally this is secured with Ryū's knife harness this strap of leather holds up to ten kunai at anyone time, over the top of this nearly hiding it from view is his make shift belt, a thick piece of shimenawa each end has a gold stopper engraved with ornate designs. Threaded through the back of the belt is Ryū's Thread Wire Shock Sword it leans over to the right so that he can easily draw it.

Ryū wears to sets of pants the first a plain white set these are made of a thick material to reduce the amount of cuts to the legs. Over the top he wears a light thin pair of pants these are coloured a vibrant green and pink. These help to make Ryū look smarter, as they don't have any cuts or tears.

Over the top of the whole outfit Ryū wears a high collar cape the outside of the cape is grey, with the inside a being a cream taupe, the cape also has a thin light grey line around its edges. There is sufficient space within the capes bindings so that no visible outline of Ryū's body can be seen. When standing still the cape meets at the front rather than exposing Ryū's body. The cape flows down almost to his ankles.

To accompany his cape Ryū wears a conical hat, made from straw this is light weight and to protect him from the weather, when travelling. The hat also helps to protect his identity and to make people think he is just another face in the crowd, to help achive this he has attached several white stipes so that his face isn't exposed. When combined with his cloak the only visable thing are his shin pads and footwear.

Accessories, Ryū wears several accessories that he has collected over the years. The first is a necklace it is made of a cotton with several shark teeth attached. Over his left shoulder he wears a demon mask it is made out of a copper metal not offering much in the way of protection. Ryū also has another mask, a small cat mask that covers the upper half of his face.

Personality
Time to work, Ryū has a dark side, once he is on a job or in battle his persona changes no longer the fun loving kid, he shows a emotionless personality, killing who ever his employer wants. It has been known for him to complement a opponent as he generally shows them respect.

Intelligent, Ryū was top of his class graduating at the age of seven which is quite a feat. His able to formulate battle plans using the environment to his advantage. A skill that can be helpful in almost every fight he is also quick to deduce the weakness of a opponent.

Greedy, Ryū has a thirst for money in this sense he is similar to a mercenary after all everything has its price and he isn't going to work for nothing. He would leave a beggar without giving him any money after all its not Ryū's problem, he would probley take a bribe as well as long as it didn't effect his code or moral code.

Is he happy or not ? Ryū occasionally gives off the sense of being happy and fun loving, some people speculate that this is merely a act so that nobody suspects he is up to no good. But this bubbly personality seems to be his real personality and the other side of him is just a act, either way he is the only one that knows the answer.

Cats ?, Ryū is a grate fan of cat like objects gathering them from all over the world. Even though he likes cat objects he dislikes real cats. This seems to be one way as most cats adore him. This love of cute cat objects seems to be a sign that he is still just a twelve year old boy. Some people find comfort in this.

Honour, Ryu dislike anyone claiming his not honourable. It may seem like he isn't a honourablies person but he generally sticks to his agreements, but will bend the words he used. A example could be him agreeing to leave, but not stating when. Generally manipulating the words he uses to his advantage.

History
Within days of being brought into the world Ryū was abandoned, he was nothing more than a mistake that had gotten out of hand. When a ninja had stopped by the local bar, Ryū's mother took a fancy to him. After only one night of passion he was gone leaving her unknowingly harbouring life mixing Kamyuja and Kumomusha blood together. She was a nice woman so couldn't bring herself to have the baby terminated, she instead decided that her newly born son would have a better chance on his own.

Ryū was left wrapped in cotton on the doorstep of a elderly couple, they too were from the Kumomusha clan. the pair had always wanted a son but were unable to conceive, they took this as a sign from the gods and expected the baby in to there family with open arms. Naming him Ryū, as he grew through the years so did the old couple but still they perversive for Ryū's sake.

The village hidden in the mist was Ryū's play ground here he played with the other children preferring to be with people older than him. They would play games such as ninja even then people noticed that he had a abnormally high chakra level, as the other children started at the academy Ryū was left behind. Now caring for his old parent.

Ryū relished the opportunity to show his skills, practising in his spare time. It soon became apparent that he had a distinct talent at taijustu, his level of skill boosted him to the most popular in the class. But he had no time for friends any more, his parents condition had been deteriorating.

Ryū became one of the ledends of the bloody mist when he graduated from the academy at the age of seven. A remarkable feat to happen in any village but for the mist you are require to fight to the death, the idea was to root out the fifty strongest in each year. Unfortunately it didn't quite go to plan for the hidden mists school as Ryū killed all one hundred of the other students. Ruthlessly slaughtering his friends with a playful grin across his face.

After this he devoted his life to caring for his parents, it was at this time that they told him he wasn't their biological son. Unfazed by this sudden turn of events Ryū accepted it, after all he loved they like parents and they loved him as he was their own. Now that school wasn't apart of Ryū's life he became withdrawn from society. When his parents finely pasted away, Ryū was left alone. He decided to grow to be someone that his mother and father would be proud of, he recalled his fathers tails of the mists seven swordsmen, legendary hero's that uses incredibly big sword.

Ryū decided he would become one of the seven swordsmen and protect the hidden mist, the training was though and required Ryū to think about the way he trained, to master a sword he would have to increase his physical fitness so he began to develop his taijustu, Ryū's fighting style was very stream line with minimal waste he adopted the saying a dodge is worth ten blocks. A strange term but it was often true if a opponent missed they would hyper extend their muscle fibres, damaging themselves.

To aid in his quest Ryū undertook the clans ritual at the age of eight, gaining a additional four arms. At first he was unable to use them properly but a few hours of training rectified this. With this dramatic change to his appearance, Ryū decided to sharpen his teeth after all all of the seven swordsmen did it, and now seemed to be the most appropriate time. It took a bit of time for his friends to adjust to his appearance but before long they got used to it.

After training independently for a few years Ryū seemed to have lost his way, no longer wanting to become a hero, his new path was that of darkness seeking power in any form. He would fuel this addiction with his mercenary style, any job would require payment. He could then use this money to buy new weapons, to explore, train, anything at all after all everybody knows that money makes the world go around.

Inventory
(10/10) Slots
--Kakkou x2 (2 slot)
--Kunai x2 (1 slot)
--Shuriken x10 (2 slot)
--Concealed Mouth Ember x5 (1 slot)
--Makibishi x20 (1 slot)
--Smoke Grenades x5 (1 slot)
--Exploding Note x10 (1 slot)
--Fuuma Shuriken x1 (1 slot)

Soft Weaponry x1 (Chain Whip)

Training Weights x1 (B ranked)

Profile template designed
by Zenoske.
Please credit if used.
[/td][/tr][/table]
[/center]