Post by ☆ F ☆ on Apr 8, 2011 15:33:29 GMT -8
[/color][/i][/ul]
Uchiha, Faust
[/s][/i][/font][/size]
ORIGINAL BIO!
[/right]
[/font][/color]
[/li][li]Gender – Alpha Male
[/li][li]Birth Country – Kaminari no Kuni (Thunder)
[/li][li]Hidden Village – Kumo (Cloud)
[/li][li]Difficulty –
Hard/Advanced
[/li][li]Alignment – NEUTRAL!
[/li][li]Kekkei Genkai!


Uchiha – One of the most prestigious clans and bloodlines to have passed through the ninja world, the Uchiha Clan were one of the founding noble families of Konohagakure no Sato, making the Hidden Leaf famous - and to many, infamous - for their talents. Select few members of the Uchiha clan possess the ability to activate the bloodline Sharingan, making it a highly rare, recessive gene tucked away only within a chosen few. This doujutsu gives one the ability to read Genjutsu, Taijutsu and Ninjutsu and then defeat it. As such, the clan member can view a technique being performed and see the tricks and movements required to be able to complete it.
[/li][li]Rank!


Jounin – Jounin, signifying elite, are ninja who are highly skilled in all jutsu skills and arts. Ninja attain the rank of Jounin through official appointment which varies by village and is given at the Kage's discretion. The Jounin generally serve as squad commander for mission operations, and are skilled at all of the shinobi arts.


[/li][/ul]
[/ul]
[/font][/color]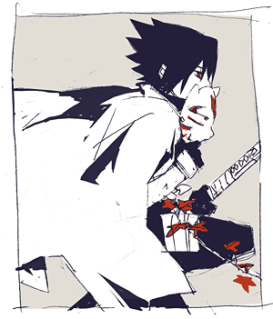 Methodology



Elements


Chakra

[/ul]
[/font]
Height: 5"9"

Weight: 152 lbs.

Hair: Raven

Eye Color: Blood Scarlet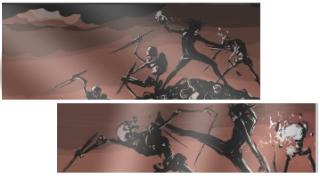 Standing tall for his age just shy of six feet, Faust tends to enjoy his perspective on life. He shows this by the proud pose worn, chest high and shoulders back, with a confident stride employed. Although quiet, his clothing speaks volumes of his spirit; a fire red Samurai armor, claimed from a fallen warrior long ago, adorns his body whole, with his head left bare. His hair, unkempt and raven, flies free in the air. Only when his rage is truly grand do the crimson lenses come forth...

[/ul]
[/font]




philosophy



Young, strong and able, Faust is a firm existentialist, enjoying the idea that the world is at his very fingertips. And in a sense, it is - his ninjutsu, soon to be unsurpassed, is the key that he used to unlock the doors to the greater planes. Good or evil do not matter for the young Uchiha, for his inexperience in life has left him simply unable to discern the different shades of truths from lies; it is because of this that he relies only what his instincts and well being instruct him, acting only when an act is needed..



morality


Right or wrong. Good or evil. None of these terms matter to the complete neutral soul that is Faust. Only his core values matter, lessons learned from his parents and elders, as well as those deemed strong with his hidden village. As such, he isn't one to be swayed by the extremes, or one to carry out heinous acts - nor is he one to go our of his way to stop one, unless it's grand enough to affect him...



purpose


To become the strongest shinobi in history.

[/ul]
[/SIZE][/font][/blockquote][/justify]